North Dakota Board Members
The Board consists of five members who serve three-year terms.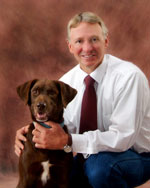 Thomas Bettenhausen, DVM
Bismarck, ND
Dr. Thomas Bettenhausen graduated from Kansas State University in 1981 with his Doctor of Veterinary Medicine degree. He was licensed in the state of North Dakota in 1981. Dr. Bettenhausen is a member of the American Veterinary Medical Association, American Animal Hospital Association, and the American Association of Equine Practitioners. His specialities are orthopedic surgery, TPLO for anterior cruciate rupture, and triple pelvic osteotomy for hip dysplasia. He owns a mixed animal practice and he also enjoys large animal practice.
Terms: 5/1/2010 - 6/30/2012, 7/1/2012 - 6/30/2015, 7/1/2015 - 6/30/2018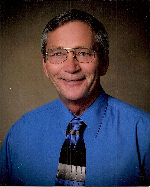 Gerald Buchholz, DVM
Bismarck, ND
Dr. Gerald Buchholz has been serving as a veterinarian in Bismarck for 30 years. He received his Bachelor's degree from North Dakota State University and his doctorate in veterinary medicine from the University of Minnesota College of Veterinary Medicine. His professional interests include orthopedic surgery, ophthalmology, and ultrasonography. He spends his free time with his wife Cindy and daughter Andrea. He enjoys hunting, fishing, and spending time at the lake cabin.
Terms: 7/1/2013 - 6/30/2016, 7/1/2016 - 6/30/2018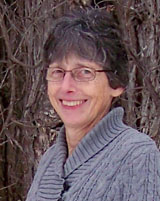 CarolynWoodruff, DVM
President
Beulah, ND
Dr. Carolyn Woodruff graduated from The Ohio State University with a doctor of veterinary medicine in 1978. She completed a large animal surgery internship at the University of Minnesota the following year before entering private practice. Since that time she has been a mixed animal practitioner in North and South Dakota. Surgery and behavior medicine are her special interests. She shares practice ownership and balancing family time with her husband, Dr. Morgan Dallman. She enjoys being an outdoorswoman, hunting, traveling, and work on their earth home construction in her spare time.
Terms: 7/1/2014 - 6/30/2017, 7/1/2017 - 6/30/2020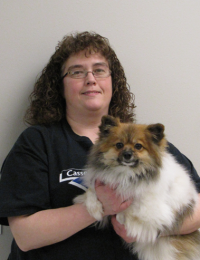 Lynn Priebe, LVT
Valley City, ND
Lynn grew up on a farm in Sauk Centre, MN. She graduated from NDSU in May 1993 with a Bachelor of Science degree in Veterinary Technology and got her license in June of 1993. Lynn has 2 cats, Cali and Shy, a dog named Gigi, and owns a few cows with her parents. Lynn enjoys working with both large and small animals. Lynn's interests include vegetable and flower gardening and sewing. Lynn also teaches dog obedience classes in Valley City and in Lisbon. Lynn is an active member in the North Dakota Veterinary Technician Association.
Terms: 7/1/2013 - 6/30/2016, 7/1/2016 - 6/30/2019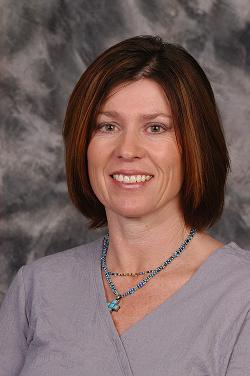 Carmel Miller, Public Member
Secretary
Carson, ND
Carmel Miller graduated from North Dakota State University with a B.S. degree in Animal Science and a M.Ed. in Agriculture Education. She and her husband Todd operate a cow/calf operation in Carson. She also teaches in the Agriculture, Technology and Natural Resources Department at Bismarck State College. Interests include being a mom to daughters Jayden and Addison, perennial flower gardening, new technology, reading and roping.
Terms: 7/1/2013 - 6/30/2016, 7/1/2016 - 6/30/2019
Updated 11/16/2017
Updated 9/25/2013